Introduction
The New York State Office of the Attorney General (the "OAG") launched the Virtual Markets Integrity Initiative to protect and inform New York residents who trade in virtual or "crypto" currency. As a medium of exchange, an investment product, a technology, and an emerging economic sector, virtual currency is complex and evolving rapidly. The OAG's Initiative, however, proceeds from a fundamental principle: consumers and investors deserve to understand how their financial service providers operate, protect customer funds, and ensure the integrity of transactions.
Virtual Currency Trading Platforms
Public interest in virtual currency – bitcoin, ether, and other digital units used to store or exchange value – has increased significantly. The best-known virtual currency, bitcoin, was created less than a decade ago and is now valued at over $100 billion.[1] Another virtual currency, ether, went from an abstract concept described in a "white paper" to a tradeable asset valued at over $20 billion in less than five years. There are currently more than 1,800 different virtual currencies exchanged around the world, with more released each month. No longer the exclusive province of tech-savvy hobbyists and traders, virtual currency now appeals to Wall Street firms and "mom-and-pop" retail investors.
To access the virtual currency marketplace, investors rely on virtual asset trading platforms, often referred to as "exchanges." These online platforms match buyers and sellers of virtual currency, performing functions similar to traditional stock exchanges, private trading venues, and broker-dealers. But unlike those traditional players, virtual asset trading platforms now in operation have not registered under state or federal securities or commodities laws. Nor have they implemented common standards for security, internal controls, market surveillance protocols, disclosures, or other investor and consumer protections.
Accordingly, customers of virtual asset trading platforms face significant risks. In recent years, hackers have infiltrated trading platforms and stolen billions of dollars' worth of virtual currency, leaving customers with little or no recourse. Delays and outages on trading platforms are common, leaving customers unable to withdraw funds and susceptible to significant losses given volatile prices. Public reports also have linked certain trading platforms to deceptive and predatory practices, market manipulation, and insider abuses.
Trading platforms vary in how they have responded to these risks. Some have taken significant, concrete steps to improve the safety, reliability, and transparency of their operations. Others have not. Meanwhile, customers have had limited access to the information needed to assess the security and fundamental fairness of platforms, or to comparison shop among them.
The Virtual Markets Integrity Initiative
The OAG enforces laws that protect investors and consumers from unfair and deceptive practices and that safeguard the fairness and integrity of the financial markets. To that end, in April 2018, the OAG commenced the Virtual Markets Integrity Initiative (the "Initiative"), a fact-finding inquiry into the policies and practices of virtual asset trading platforms. The OAG sent letters and questionnaires to thirteen major trading platforms. A sample letter follows this Report as Appendix A. The questionnaire (Appendix B) sought details on the platforms' trading operations, as well as information about how the platforms protect customer assets. The OAG's questions also reflected areas of special concern for everyday retail customers, such as site outages, fees, and the effects of automated or "bot" trading.
The OAG sought voluntary participation, expecting that platforms would embrace the opportunity to provide the public with much-needed clarity regarding basic practices and functionality. Most did. Nine of the thirteen platforms participated in the Initiative: Bitfinex (operated by iFinex Inc.), bitFlyer USA, Inc., Bitstamp, Ltd.,[2] Bittrex, Inc., Coinbase, Inc., Gemini Trust Company, itBit (operated by Paxos Trust Company), Poloniex (owned by Circle Internet Financial Limited), and Tidex (operated by Elite Way Developments LLP). The OAG separately invited HBUS – a platform that calls itself the U.S. "strategic partner" of Huobi Inc. – to respond, as the platform opened for trading in July 2018. HBUS elected to do so, and its responses are included in this Report. The information provided by these platforms forms the basis of this Report. Four platforms – Binance Limited, Gate.io (operated by Gate Technology Incorporated), Huobi Global Limited, and Kraken (operated by Payward, Inc.) – claimed they do not allow trading from New York and declined to participate. The OAG investigated whether those platforms accepted trades from within New York State. Based on this investigation, the OAG referred Binance, Gate.io, and Kraken to the Department of Financial Services for potential violation of New York's virtual currency regulations.
After compiling and analyzing responses, and comparing them to the platforms' public disclosures, the OAG gave platforms the opportunity to confirm the information they provided. Nine did.[3]
The Virtual Markets Integrity Report
The Virtual Markets Integrity Report (the "Report") addresses areas of particular concern to the transparency, fairness, and security of virtual asset trading platforms, and highlights key policies and practices of the responding platforms. The Report includes the following sections:
Section I: Jurisdiction, Acceptance of Currencies, and Fees. This section discusses how customers sign up with trading platforms, the access controls in place at the platforms, their acceptance of fiat currency (i.e., traditional, government-issued currency), and their fee structures.
Section II: Trading Policies And Market Fairness. This section addresses the trading rules in place at the trading platforms and the fairness for retail investors, and includes discussion of order types, the availability of credit (margin trading), policies on automated or algorithmic trading, and measures taken (if any) to address market manipulation and other abusive trading practices.
Section III: Managing Conflicts of Interest. This section addresses potential conflicts that may arise between the interests of virtual asset trading platforms, their employees, and their customers.
Section IV: Security, Insurance, And Protecting Consumer Funds. This section covers the use of independent auditing by the trading platforms, their independent security testing, and their safeguarding of customer funds through insurance and other means.
Section V: Access to Customer Funds, Suspensions, and Outages. This section discusses select issues concerning customer transactions and withdrawals, policies for suspending trading activity, including customer notification in the event of outages or scheduled maintenance.
Each section presents the responses of participating platforms to specific, targeted questions on topics relevant to retail customers. Examples include:
Does the platform conduct independent testing to ensure adequate IT security against threats, including hackers?
Does the platform allow professional traders to use automated or algorithmic trading?
Does the platform trade against its own customers on its venue?
Does the platform carry insurance that would cover virtual currency losses in the event of theft or hacking?
Does the platform compile, disclose, and explain site outages or trading suspensions?
Limitations of This Report
This Report does not address whether virtual currency represents a sound investment decision. Unlike traditional stocks and commodities, virtual currency is neither tied to a tangible asset nor to the performance of a particular company. The primary driver of a virtual currency's value appears instead to be the willingness of people to use or trade it. This has led some observers to question whether virtual currency has any underlying value at all, and to liken the intense interest in virtual currency to past speculative investment bubbles. The OAG's Report does not evaluate that issue; rather, the objective of this Report is to provide information on virtual asset trading platforms to customers who have used, or are considering using, those platforms to transact in virtual currency.
This Report reflects the information voluntarily provided by platforms. Although platforms were asked to confirm the information they provided, the OAG cannot assure the accuracy of their responses. Further, while the OAG endeavored to include trading platforms that are widely used in New York, the United States, and abroad, in order to provide a snapshot of the industry, their policies and procedures are not necessarily representative of all trading platforms. Seven of the ten participating platforms—(i) bitFlyer USA; (ii) Bitstamp; (iii) Bittrex; (iv) Coinbase; (v) Gemini; (iii); (vi) itBit; and (vii) Poloniex (Circle)—sought approval, directly or through a subsidiary, from the New York State Department of Financial Services ("DFS") to operate a virtual currency business in New York. Pursuant to DFS requirements, licensed virtual currency firms must maintain policies and practices designed to, among other things, protect deposited funds, prevent money laundering and illegal activity, and respond to other risks. Given those requirements, and ongoing supervision and monitoring by DFS, the customer protections in place at platforms subject to the BitLicense regime are likely to be better than those prevailing at other platforms.
Finally, the virtual asset industry is rapidly evolving. Trading platforms are constantly refining and changing their operations, and may elect to reform policies based on market conditions, regulatory requirements, or the findings of government agencies, including those contained in this Report. Since the OAG began its Initiative, certain platforms have revised or improved various policies of interest. The information in the Report is current as of September 2018.
It is difficult for ordinary customers to find and compare certain basic – but important – features of virtual asset trading platforms. In order to assist customers in making educated choices, the OAG requested certain basic information from participating platforms, including:
Where, geographically, a platform is incorporated and headquartered;
The jurisdictions from which customers are authorized to trade;
Measures taken to limit access to authorized customers;
Acceptance of traditional fiat currency, such as Euros and U.S. dollars; and
Fees associated with maintaining an account and trading.
These basic topics are important for customers to understand. First, while several virtual asset trading platforms are located or otherwise licensed to operate in New York, or elsewhere in the United States, others are located in the United Kingdom, Taiwan, or other jurisdictions like the Cayman Islands. In the past, some platforms have moved their operations with little or no warning. For legal and other reasons, many platforms purport not to accept customers from particular geographic locations; indeed, certain platforms claim not to accept customers from anywhere in the United States, or from particular U.S. states.
Second, each platform chooses for itself which virtual currencies to list for trading. Certain trading platforms allow customers to deposit U.S. dollars, Euros, or other fiat currency and convert that money into virtual currency. Platforms without banking relationships only facilitate transactions exclusively involving virtual assets. Some platforms limit trading to a few, better-known virtual currencies such as bitcoin or ether; others facilitate the trading of dozens or even hundreds of different virtual currencies, sometimes including virtual currencies they issue themselves.[4]
Third, virtual asset trading platforms differ in how they assess fees on customers. As a general matter, trading platforms charge customers on a per-transaction basis, with the amount charged related to the amount of virtual or fiat currency exchanged in a given transaction. Importantly, though, the platforms reported an array of approaches for assessing fees, to whom, and in what amount. Platforms also typically assess deposit and withdrawal fees when customers transfer fiat currency into and out of their accounts.
A. Jurisdictions and Authorized Use
Given the volatility of the virtual markets, the short track record of trading platforms, and well-publicized problems in the industry, customers should consider where their platform operator is located. The jurisdiction where a platform is incorporated or headquartered may dictate whether and how the customer can seek compensation or other legal recourse in the event his or her data is breached, customer funds are stolen, or a platform becomes insolvent.[5]
The platforms that refused to respond to OAG's Initiative – Binance, Gate.io, Huobi, and Kraken – are located in other countries or, in the case of Kraken, headquartered in California. Binance reportedly moved its operations to Malta, after initially locating in Hong Kong and then Japan. Huobi is reportedly based in Singapore. The location of the operator of Gate.io – which transacts tens of millions of dollars' worth of virtual currency per day – is unclear from public sources. The company, however, represented in writing to the OAG that the platform is based primarily in China.
Customers must also understand the jurisdictions from which their virtual asset trading platforms purport to prohibit trading, and other restrictions on trading in the platform's terms of service. Several states, including New York, require companies that run a virtual asset trading platform to obtain approval to operate (and submit to oversight) or to adhere to other rules concerning how they administer their platforms. Moreover, a platform may elect to establish additional trading restrictions in its terms of service. Customers may find ways to circumvent the restrictions that a platform uses to block such trading. Such customers, however, could find themselves without recourse in the event of a dispute with the platform, or loss of funds due to fraud, theft, or insolvency.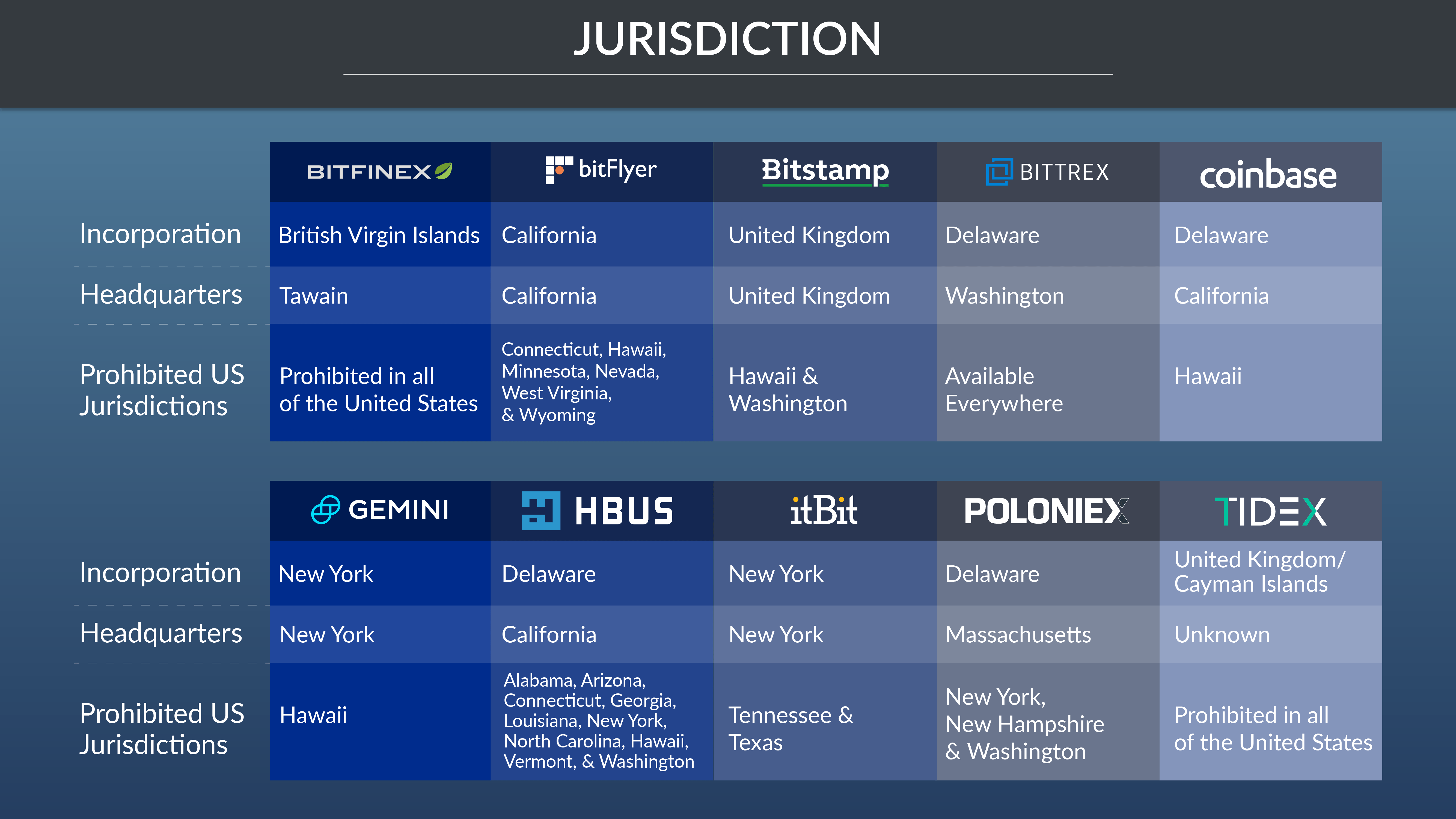 Jurisdiction

| Participating Platform | Incorporation | Headquarters | Prohibited US Jurisdictions |
| --- | --- | --- | --- |
| Bitfinex | British Virgin Islands | Taiwan | Prohibited in all of the United States |
| bitFlyer | California | California | Connecticut, Hawaii, Minnesota, Nevada, West Virginia, Wyoming |
| Bitstamp | United Kingdom | United Kingdon | Hawaii, Washington |
| Bittrex | Delaware | Washington | Available Everywhere |
| Coinbase | Delaware | California | Hawaii |
| Gemini | New York | New York | Hawaii |
| HBUS | Delaware | California | Alabama, Arizona, Connecticut, Georgia, Louisiana, New York, North Carolina, Hawaii, Vermont, Washington |
| itBit | New York | New York | Tennessee, Texas |
| Poloniex | Delaware | Massachusetts | New York, New Hampshire, Washington |
| Tidex | United Kingdom/Cayman Islands | Unknown | Prohibited in all of the United States |
Click an exchange logo below below to see their areas of operation.
* Where the map only reflects a platform's headquarters, the state of incorporation is the same.
Available
Restricted
Incorporated
Headquarters*
B. Verifying and Monitoring Authorized Access
Most virtual asset trading platforms purport to allow only customers from authorized jurisdictions to access their venues, and to exclude customers who violate their policies, including those related to market manipulation and money laundering. Trading platforms without an effective system for verifying and monitoring the identity and location of customers cannot block unauthorized access or ensure the fairness and integrity of their marketplace. Customers should be wary of platforms that allow new customers to on-board without adequate safeguards.[6]
Platforms that have implemented a Know Your Customer ("KYC") program will engage in various measures to confirm a new customer's identity before permitting certain types of trading. The OAG nonetheless found that virtual asset trading platforms differ significantly in how they confirm identity and enforce their site access policies. Most participating platforms require customers to submit a range of personal identifying information and government-issued identification before allowing new customers to trade. Bitfinex and Tidex do not, requiring little more than an email address to begin trading virtual currencies. The graphic below reflects the requirements for all customers; platforms may elect to require additional on-boarding information from certain customers based on their risk profile and other factors.
Click an exchange logo below to view their on-boarding requirements.
Requirements for
On-boarding
Online businesses commonly employ several other methods to control access. One common security measure is to monitor IP addresses. An IP address acts as a unique identifier assigned to a computer connected to the Internet, allowing a website operator to monitor the computers that connect to its site. Among other uses, monitoring IP addresses allows a website operator to determine the approximate geographic location of users and track suspicious behavior coming from a particular computer connection. To evade such monitoring, users can attempt to mask their IP addresses using a virtual private network ("VPN").[7] By routing computer activity through a third-party network, VPNs can obfuscate the location of a log-in. For IP monitoring to be effective, then, platforms must take reasonable steps to unmask or block customers that attempt to access their site via known VPN connections. While most participating platforms reported that they monitor access by IP address, only Bitstamp and Poloniex (Circle) purported to limit VPN access. That raises questions about the ability of the other trading platforms to restrict access to authorized users only.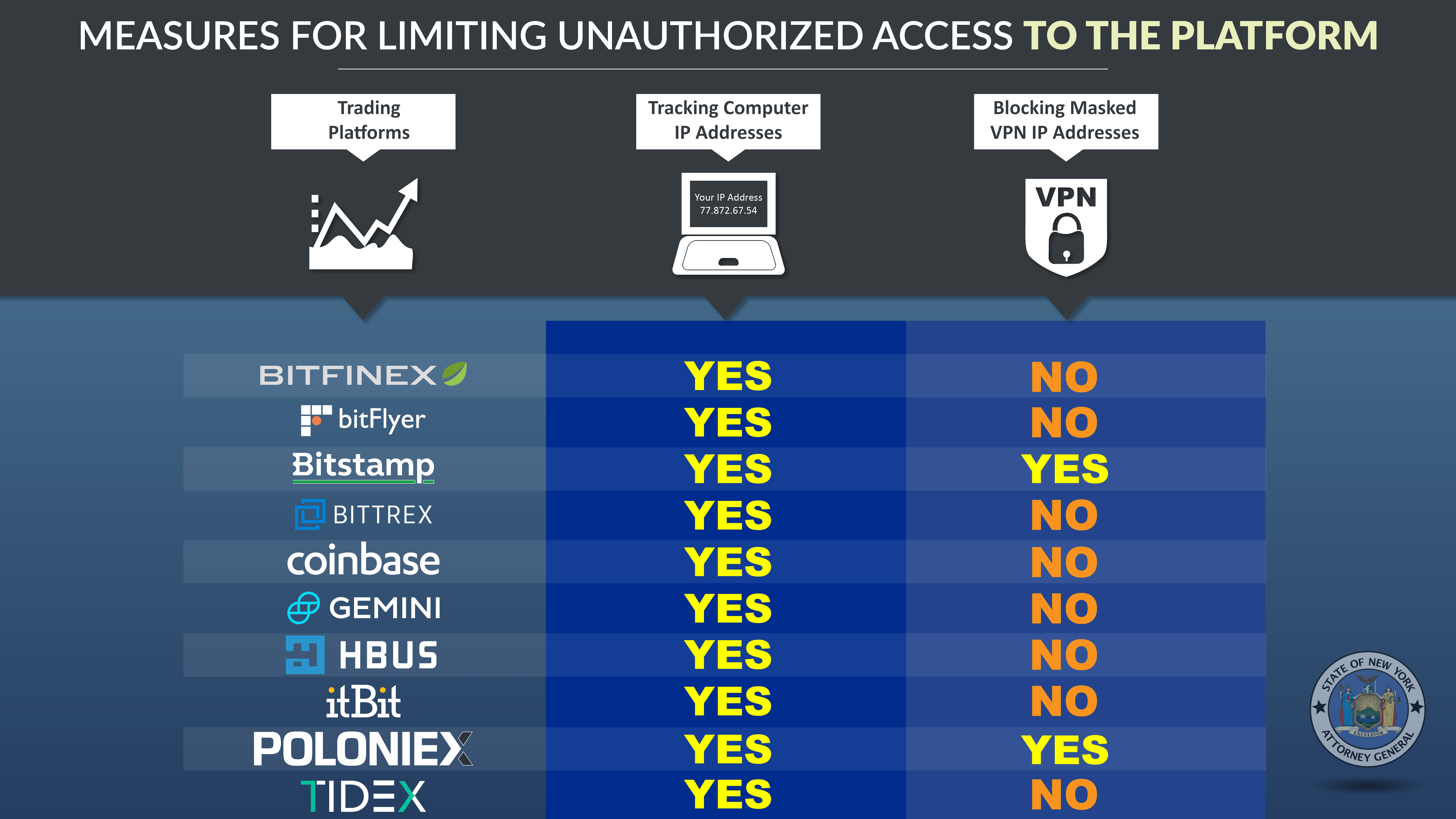 Measures for Limiting Unauthorized Access to the Platform

| Participating Platform | Tracking Computer IP Addresses | Blocking Masked VPN IP Addresses |
| --- | --- | --- |
| Bitfinex | YES | NO |
| bitFlyer | YES | NO |
| Bitstamp | YES | YES |
| Bittrex | YES | NO |
| Coinbase | YES | NO |
| Gemini | YES | NO |
| HBUS | YES | NO |
| itBit | YES | NO |
| Poloniex | YES | YES |
| Tidex | YES | NO |
C. Acceptance of Fiat Currency
To obtain virtual currency initially, retail customers must typically find a virtual asset trading platform that accepts fiat currency. Not all do. Most trading platforms lack a relationship with a bank and allow only trades involving two virtual currencies (e.g. purchasing bitcoin with ether). To trade on those platforms, customers must first obtain virtual currency elsewhere and transfer it onto the platform. In addition to the convenience associated with accepting fiat currency, traditional banks in the United States and overseas are subject to substantial oversight, monitoring, and insurance. The existence of a formal banking relationship therefore offers customers with a useful indicator for evaluating the platform as a business concern. As reflected on the chart below, seven participating platforms accept fiat currency.
Fiat Currency Acceptance

| Participating Platform | Accepted Fiat Currency | Only Accepts Virtual Currency |
| --- | --- | --- |
| Bitfinex | $, £, €, ¥ | |
| bitFlyer | $ | |
| Bitstamp | $, € | |
| Bittrex | $ | |
| Coinbase | $, £, € | |
| Gemini | $ | |
| HBUS | None | YES |
| itBit | $, € | |
| Poloniex | None | YES |
| Tidex | None | YES |
D. Fees and Fee Disclosure
In any trading environment, fees are an important consideration for customers and directly affect trading performance. High or unexpected fees can turn profits into losses. Customers should understand what actions will trigger fees, the size of those fees, and whether any "hidden" or non-obvious charges may be associated with trading activity.[8] Fee transparency is especially important in a complex electronic trading environment like virtual currency, where different fees can apply based on the price of the asset bought or sold, the volume of trades executed by the customer, the order type chosen, or the timing of an order submission. Fee structures may also advantage certain types of traders.
Five participating platforms – bitFlyer USA, Bitstamp, Bittrex, HBUS, and Tidex – purport to charge the same trading fees to all customers with the same trading volume. Bitfinex, Coinbase, itBit, and Poloniex (Circle) employ a so-called "maker-taker" fee model.[9] Gemini employs a hybrid fee structure, offering the same trading fees for low-volume customers, but applying maker-taker pricing to high-volume traders. Although HBUS's fee schedule lists separate fees for makers and takers, it currently charges the same rates to both.
"Maker-taker" is a fee model that charges lower or no fees to customers who "make" liquidity (i.e., whose orders exist on the order book prior to a trade), whereas customers who "take" liquidity by filling an already-existing order are charged more.
As discussed in further detail in Section II, "maker-taker" fee models favor professional traders over retail customers, and may create incentives that distort the market.
Trading Fees

| Same Fee for Makers and Takers | Different Fee for Makers and Takers | Lower Fee for Higher-Volume |
| --- | --- | --- |
| bitFlyer, Bitstamp, Bittrex, HBUS, Tidex | Bitfinex, Coinbase, Gemini, itBit, Poloniex | Bitfinex, Bitstamp, Coinbase, Gemini, itBit, Poloniex, Tidex |
Importantly, while Bittrex is the only participating platform not to offer volume discounts to high-volume customers, bitFlyer USA, Bitstamp, Gemini, HBUS, and itBit disclosed to the OAG that certain traders may receive different, and presumably preferential, pricing according to the terms of confidential bilateral agreements, the details of which are not disclosed in public fee schedules.
Virtual asset trading platforms also charge other fees, including deposit and withdrawal fees for fiat or virtual currency, and other services. Customers should review and understand the complete fee schedule provided by a platform before they trade.
Deposit and Withdrawal Fees

| Participating Platform | Virtual Currency | Wire Transfers | Credit/Debit Card | No Fees |
| --- | --- | --- | --- | --- |
| Bitfinex | DEPOSIT, WITHDRAWAL | DEPOSIT, WITHDRAWAL | | |
| bitFlyer | WITHDRAWAL | WITHDRAWAL | | DEPOSIT |
| Bitstamp | DEPOSIT | DEPOSIT, WITHDRAWAL | DEPOSIT, WITHDRAWAL | |
| Bittrex | | | | DEPOSIT, WITHDRAWAL |
| Coinbase | | DEPOSIT, WITHDRAWAL | | |
| Gemini | | | | DEPOSIT, WITHDRAWAL |
| HBUS | | | | DEPOSIT, WITHDRAWAL |
| itBit | | DEPOSIT, WITHDRAWAL | | |
| Poloniex | WITHDRAWAL | WITHDRAWAL | | DEPOSIT |
| Tidex | WITHDRAWAL | | | DEPOSIT |
By raising the costs of moving funds onto, and off of, individual platforms, those fees may serve as a disincentive for customers to switch platforms (or exit virtual assets entirely) in response to shifting market conditions. Certain platforms, notably Bittrex and Gemini, purport to charge no withdrawal or deposit fees for most customers.[10]
Customers should understand that the four trading platforms that refused to participate in the OAG's Initiative may not make their full schedule of fees available publicly, and that certain customers may receive preferential rates. Further, customers should be aware that those venues may not disclose certain fees in advance, and customers could find that transacting on those venues is more expensive than anticipated.